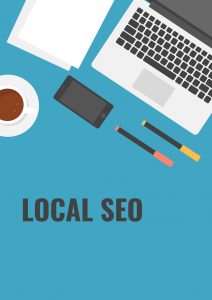 Local SEO is a process through which businesses try to improve their visibility on search engines locally.
The internet has made the whole world a global village such that one can communicate with anybody even if they are a thousand miles away physically.
The internet also serves to provide answers to our questions. Does a day pass by without you asking Google one question? You want to locate a clinic near you, Google. A vet who can treat your puppy in Rhode Island, Google.
Take a minute to reflect, how do you think Google gets these answers? It is a process called local search engine optimization (SEO). 
For instance, while searching for a vet, you have to type your location or your phone can automatically detect your location to see vets near you.
A vet who utilizes local SEO for his business might be one of the first results that pop out when you search for vets in your area.
For businesses that operate physically or in a specific location, local SEO can be very beneficial to their operation. 
Importance of Local SEO to your Business
Local SEO has quite a lot of benefits to the business. Some of these benefits are:
Local SEO Helps Encourage Improved Visibility
The number of people who make use of smartphones today far outweighs those who don't. The number of Google searches also keeps rising daily.
Local SEO is a great way to take advantage of this, with the right keywords, you can place your business on the map and get increased visibility.
Local SEO through search engines allows potential customers to see your business, thus giving your business a shot at being patronized.
Local SEO Promotes Increase in Customers/ Clients
According to reports, seventy-eight percent of local phone searches yield offline purchases. This means with increased visibility also comes an increased customer base.
It affords you a great opportunity to build your customer base. Reports also show that seventy-two percent of people who carried out a local search visited a store within five miles.
This is an impressive number and also shows the importance of these strategies.
Reports have also shown that sixty-two percent of local clients utilize search engines and directories as their main method of searching for a local business.
Other reports stipulate that about half of searchers visit businesses within twenty-four hours of a local search. All these statistics show the importance of SEO to a business.
Bottom line 
People depend more on the internet to give them what they are looking for. Therefore, using the internet to improve your business visibility and outreach is a no-brainer.
 You can benefit from this by constructing this strategy for your business. This way you can build up your business to the desired level.
However, building up a local SEO strategy might be difficult for you. This is where we at NPT Marketing come in. We are experts at developing and executing these strategies.
We would help you formulate a strategy that is viable for and suits your business. Contact us today and we will help establish your business reach.