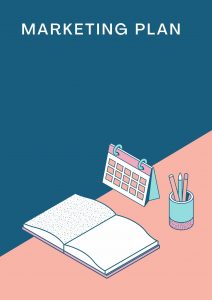 Whatever small business you have, you need a marketing plan. Whether your business revolves around clothes, food, hair, or anything else, an apt marketing plan will aid your success. Your potential clients, most likely, do not know you yet. 
That shows you have to get your business to them. They need to know what you do and you need to take it to them. This implies that you can't do without a marketing plan.
What is a Marketing Plan?
Marketing is the steps you take in attracting people to your brand and keeping them as customers. A marketing plan is what makes you achieve this goal. A marketing plan will enable you to attract potential customers and get them to be interested in your goods and services. It also helps you retain them as constant customers.
To get a successful marketing plan, you have to know your potential customers. That is, you have to understand how they are likely to act and what decisions they are likely to take. A marketing funnel can help you understand this better. 
The marketing funnel has several models. Talking of a potential customer's path to becoming a customer, the AIDA model outlines that people follow these steps:
Awareness: the people get to know about your product,

Interest: the people will evaluate your product to know what benefits it has for them,

Desire: the people will want your product, and 

Action: they will either try the product or buy it.
Knowing this path or the possibility of your potential customers taking these steps, you are better equipped to convert them from just visitors to customers. 
Approaches to Marketing
There are several productive approaches for converting potential customers to actual ones. Here are some of the approaches:
This involves delivering relevant and consistent content to your potential customers. These contents are aimed at providing useful information about the people's needs and the solution you are providing. The right contents are created to satisfy the potential customers at their different level of awareness.
This approach to marketing focuses on making you more visible in the results search engines produce. The aim is to improve ranking and drive traffic. There are creative elements as well as technical ones involved.
This is where you get your business across to people via social media like Twitter, LinkedIn, Instagram, Facebook, and so on. This approach is productive because people can know what the brand is about in an instant. And then they can reach you quickly.
This approach involves using influencers, journalists, and so on to relate your story to the public and grow your reputation.
This approach involves growing the customer base using emails and email newsletters. The ROI this approach produces calculates at $38 per dollar spent.
This involves the use of paid promotions.
Final Words
A great marketing plan will grow your business impressively. Understanding the marking funnel helps you know the right approach to use.