Content Marketing Automation Software
Content marketing involves many different aspects. To make sure your efforts reach the proper audience and have the greatest impact, consider using marketing plans and strategies, development, QA, publication, distribution, and optimization.
With a small team and few resources, it can be too much to handle. Additionally, scaling effectively can be difficult for the same reason.
However, by using a marketing automation strategy, you may simplify things for both you and your staff. The ideal approach for marketers to efficiently streamline marketing processes, enhance workflows, and boost ROI for their initiatives is automation.
In this post, we'll define content marketing automation and show you how to apply it to increase the visibility and potency of your content.
What is marketing automation?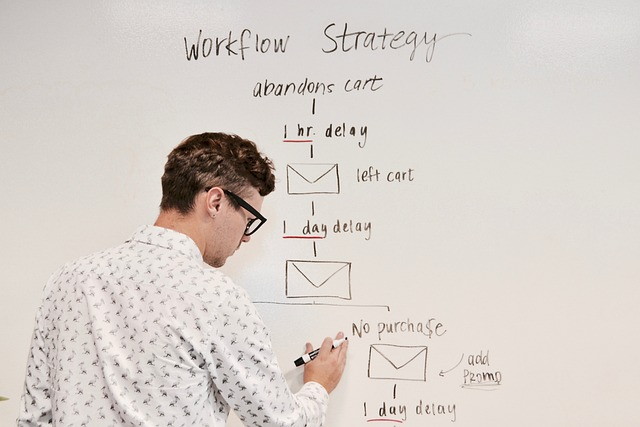 Marketing automation makes use of software to carry out marketing chores and carry out planned campaigns across numerous channels. The software may complete numerous repetitive tasks for you after you create a timetable, freeing up your time to concentrate on other projects.
Additionally, you may use automation tools to give users a personalized experience based on their actions, preferences, past purchases, and more. Your clients' trust in your brand will increase because they'll think you've created each marketing message, especially for them. Additionally, you'll develop a devoted clientele of customers who adore (and rave about) your branWhenhen marketing automation software is employed, marketers report a 451% increase in qualified leads.
How to Automate Content Marketing Effectively
Did you know that 70% of consumers find high-quality material to be more informative than advertisements? That's fantastic news given that more people are blocking adverts than ever before. However, most people find it difficult to create excellent content.
Creating content can be difficult, particularly if you're new to the sector or don't have much expertise in content marketing or content development.
Automating and producing high-quality content is made simple by the availability of numerous tools. Consequently, let's examine the reasons why you ought to automate your content marketing plan by employing technologies right away.
Why is Content Marketing Important?
The benefit of content marketing is that it enables us as marketers to use a piece of content to draw in and appeal to a target audience. It is a key element of inbound marketing and is very beneficial for establishing brand awareness, authority, and cultivating relationships.
Over 70% of B2B and B2C marketers use content strategies in their annual plans because they are so effective.
With recent estimates claiming that the content marketing sector would be worth $412 billion by 2021, it ly swiftly becoming a top concern for organizations.
The main line is that you must automate as much as you can if you want to get the most out of your material without following a time-consuming methodology or using a large number of extra resources.
The Benefits of Content Marketing Automation
While automation may be unfamiliar to you, content marketing surely is. In essence, it involves the use of tools to automatically produce, promote, and share content across several marketing channels. Implementing your content marketing strategy is seamless and effective when using automation.
Your marketing team's workload is lessened through automation, allowing them to concentrate on strategy, analytics, and innovation. Additionally, it makes the content distribution process more efficient than it would be if done manually between sales and marketing teams.
You can run paid advertisements to grow your audience while keeping tabs on your budget and progress by employing automation.
Finally, choosing the right marketing automation software makes it possible for you to monitor traffic, leads, and conversions so that you can continuously enhance your content. By not paying people to complete these operations manually, you will save money, which will improve consistency and ROI.
What Content Marketing Efforts Can I Automate?
Don't worry if you're unfamiliar with marketing automation platforms. You may learn more about various products and the best marketing automation features from our wealth of excellent material.
Let's go over a few automatable content marketing activities to get you started.
Using Social Media to Share Content
One of the simplest methods to promote your company is through using social media platforms to share content, particularly when influencers are involved. Having pertinent material that is often shared is essential for spreading your message.
However, managing so many social media channels might make it difficult to stay current. Therefore, automating batch content creation keeps prices down and engagement levels up, resulting in huge success for your organization with little work.
Paid Promotion of Your Content
Not only does content development play a role in content marketing, but also how your material is promoted. Additionally, you may automate the scheduling, tracking, and monitoring of your advertising campaigns.
Paid advertising is not something anyone can afford, but it may really help your digital marketing plan, especially if you use it to promote pieces that are currently doing well.
Paid media is a fantastic way to spread your fresh material to a wider audience by making use of clever keywords that members of your target market use while looking for goods and services similar to those your business offers.
To be fair, though, if you don't continuously analyze the effectiveness of your ads and make modifications to improve performance, sponsored media may become quite expensive and money can be easily lost.
Your success depends on the integration of your marketing automation platform with ad monitoring and analytics tools like Google Analytics and Adwords.
Campaigns for Email Marketing Automation
Another thing you can automate is email marketing campaigns.
You can utilize your automation platform to nurture your email list of qualified leads through email outreach campaigns in addition to integrating it with your customer relationship management (CRM) solution or using its built-in CRM, such as with HubSpot.
You may improve the efficacy of your email newsletters or blasts by planning them during periods that have been shown to raise open rates.
Additionally, by utilizing A/B testing capabilities in your automation platform, you can determine which version of your emails performs the best and make adjustments to what isn't working while focusing more on what is.
Moreover, the reporting tools on your automation platform will let you know what's working and what isn't. Once more, the goal is to duplicate what is successful and eliminate what fails
Content Marketing Automation Software
What platform for automation should you use, though? Platforms like Mailchimp, Pardot, and Marketo are a few of the trustworthy options available. Check out a handful of the ones that Frank Media has had fun working with.
Choose a few of these best marketing automation tools based on your requirements and financial situation.
How to Choose the Best Marketing Automation Software
For SMB and B2C situations, a more specialized marketing automation tool would be preferable, but B2B and enterprise firms might require a platform with broader capabilities. To help you choose the software for marketing automation that's best for you, here are some examples:
HubSpot
Given that HubSpot was a pioneer of inbound marketing strategies, you probably know them best. List building, email management, lead tracking and scoring, lead segmentation, and many other excellent HubSpot capabilities are just a few.
Eloqua
B2B marketers utilize Oracle's Eloqua, an enterprise-grade automation tool, to follow leads through the sales funnel and monitor their purchasing behavior.
Lead management, targeting and segmentation, sales facilitation, web marketing, social media marketing, and sophisticated tracking metrics can all benefit from it.
Marketo
Another well-known marketing automation program that provides tools for content development and SEO is Marketo. Additionally, Marketo offers lead scoring, lead nurturing, and sales intelligence capabilities.
Pardot
Another marketing automation tool is Pardot, which integrates the features of email marketing, lead creation, lead management, ROI reporting, and sales alignment. Organizations with lengthy sales cycles and those who already use Salesforce as their CRM platform for the sales team may consider Pardot.
SharpSpring
SharpSpring is the last but most certainly not the least. Another alternative platform for marketing automation isrpSpring, which we use for our own internal content marketing automation initiatives as well as Interrupt Media.
Unlike other marketing automation tools, this platform enables us to schedule social media, host our marketing materials, and automate our follow-up email marketing campaigns, among other things.
EngageBay
EngageBay is another marketing automation platform designed specifically for small to medium-sized businesses. Email marketing, managing social media accounts, and website chat are just a few of the many features that this program can perform.
Conclusion
Whatever your line of work, marketing automation is simple to set up for any circumstance. You may begin building enduring relationships with your customers once you've decided on your goals, developed your messaging, and selected the standards that will guide your process.
Now that you are done reading this article, hopefully, you can find the right marketing automation tools for you that can lessen your marketing tasks, receive qualified leads on your sales teams, and manage your customer journey.
If you don't use the method carefully, it can harm your marketing success in a variety of ways. One piece of the larger marketing pie is content marketing automation, and as HubSpot puts it, "it needs constant care to flourish."